THE ONLY SWIM GOGGLES RECOMMENDED BY SENSORY FRIENDLY SOLUTIONS
Sensory Friendly Solutions, the experts in positive adaptations for sensory sensitive people, awarded Frogglez Goggles the coveted "Favourite Things" badge. After performing a comprehensive review, the group recommends Frogglez comfortable swim goggle strap for occupational therapists and parents. The soft neoprene split-strap glides overhead without pulling hair and can attach almost any swimming goggles.
Sensory Friendly Solutions' "Favourite Things" program recognizes products and services that help people manage sensory sensitivity or reduce sensory overload.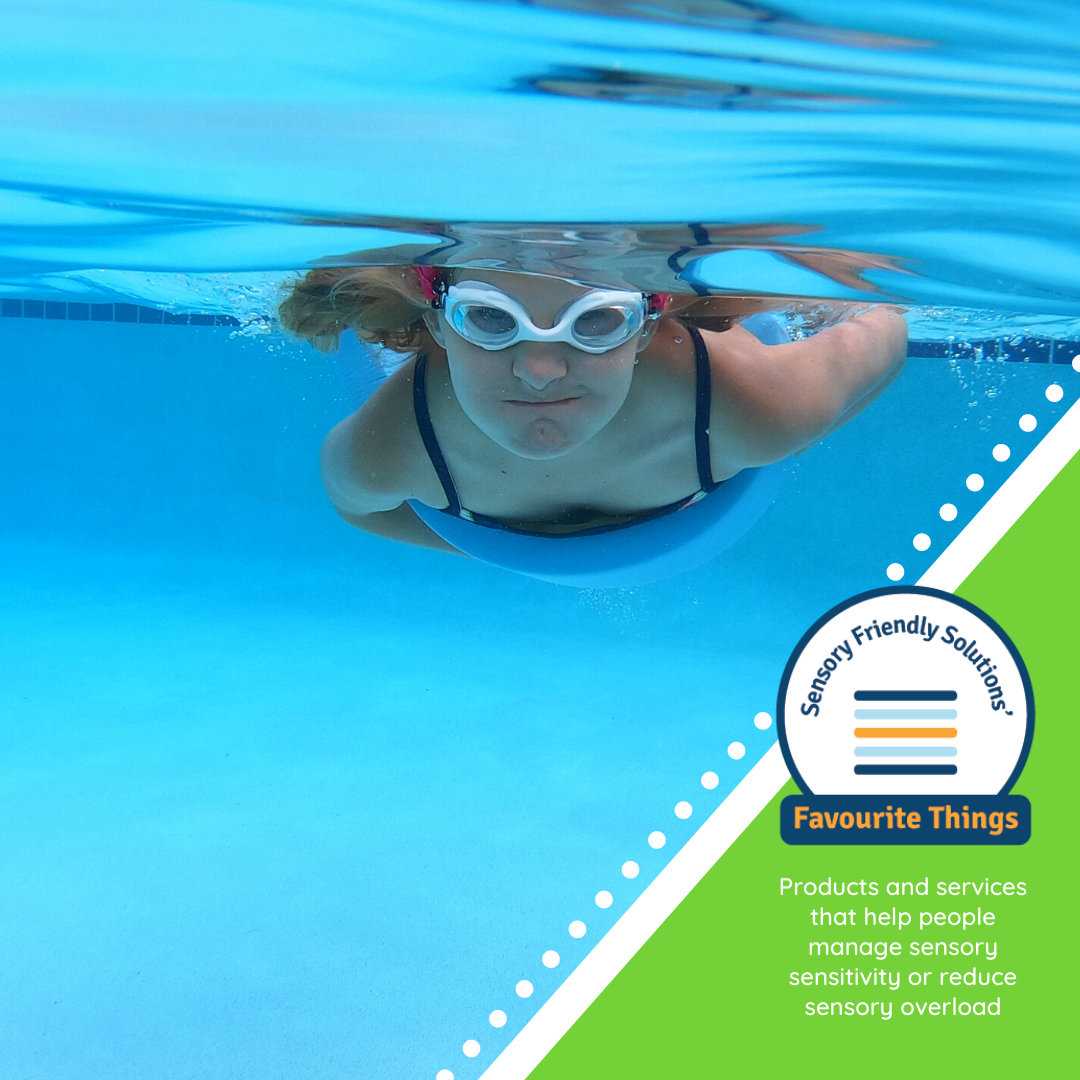 FROGGLEZ GOGGLES HELP MAKE SWIMMING ACCESSIBLE

Customize your Frogglez Goggles to meet specific needs. Swap the goggles for a wide-view swim mask for proprioception issues, or a darker tinted goggle to address light sensitivity. 
The chunky strap is easy for little hands to manage,

empowering kids

with control over the fit
Velcro tabs provide

fidget distraction

to divert negative focus and promote higher levels of concentration when focusing on tasks
The soft fabric-covered strap provides

gentle pressure

that can reduce anxiety and provide a more positive swimming experience
Frogglez

reduce excessive stimulation

by gliding overhead instead of tangling and pulling hair
SEE WHAT PARENTS OF SENSORY KIDS SAY! 
★ ★ ★ ★ ★
Best straps for a sensory kiddo! Our son can't stand certain textures and the regular goggles always hurt him. Found these and tried them out. He absolutely loves them and won't even look at the other ones anymore.
★ ★ ★ ★ ★
Absolutely no complaints from the kiddos. I've tried many goggles and this is the only one I found where my kids don't complain about the hair pulling. My daughter has curly long hair and the goggles don't bother her at all. Thank you Frogglez!
MADE BY MY DAD
Frogglez Goggles were designed by a dad after seeing his daughter struggle with her swim goggles at her first swim lesson. He watched the kids and instructors get distracted from the lessons by goggles that fell off or got tangled in their hair. Because the children didn't have the motor skills to adjust their own goggles, the swim instructors spent more time helping with goggles than teaching.
Today, people around the world are better swimmers thanks to the thoughtful design of Frogglez. The small family business is still passionate about helping kids manage their world independently. The team of employees believes all children should have fun learning to swim and exploring the underwater world, instead of struggling with their swim goggles.
SIMPLE SOLUTIONS THAT MAKE PEOPLE COMFORTABLE
Sensory Friendly Solutions maintains a clearinghouse of information, tips, and resources for parents and therapists. Learn more about how people process sensory input and how this neurodiverse condition can affect people's behavior. Learn about sensory sensitivity, sensory overload, and sensory challenges.
Be empowered to help people of all ages enjoy sensory-friendly living at home, school, work, in the community, and when traveling. Learn more at SensoryFriendlySolutions.net.